[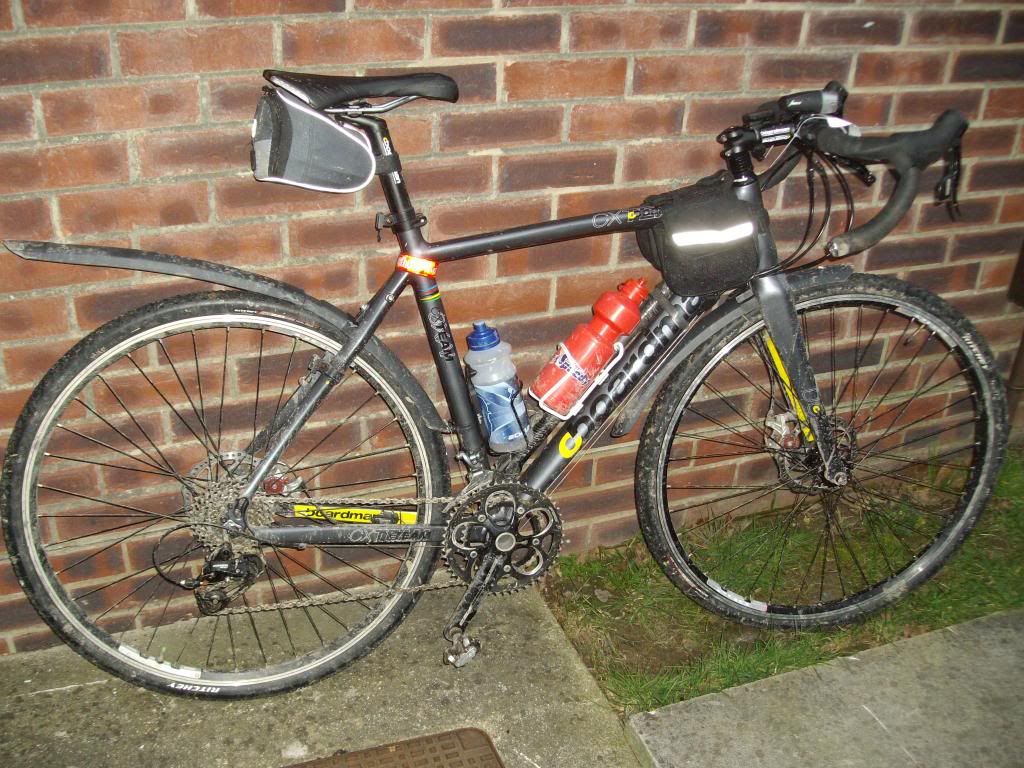 Well, I did it.
Picture of bike after event and after it has been hosed down (no way was it going in the car that filthy)
Set off at 7am, signed on and started around 08:30. I was doing well until the sand, fell off twice and then walked. A few bastard hard hills, much of it was off road and the mud at times was like glue and the chalk was glutenous. Some fantastic views and downhill sections where the disc brakes were worth the money.
What did I learn?
On the road the CX still whups MTB's and 29ers.
Up hill and on a lot of sticky stuff MTB's are quicker, especially suspended ones, not a great deal of difference downhill
There is no clearance even for the clip on mudguards I used, they clogged a couple of times.
It was worth lubing all the drive train, even so shifting at the end was hit and miss.
Never missed a beat on anything, brakes superb, gears crisp.
OEM tyres are quite good, even at the 70psi I ran at.
New handlebars are far better than the OEM.
Hitting a pothole on past downhill sections will still cause a pinch flat
Eat and drink PLENTY, I lost about 1lb today.
So, you all want to know my time, then?
The quickest was 3hrs.07 that I saw on the official timing, 20-40age range.
The quickest in my age range (40-49) was 3hrs 09
Quickest 50+ was 4hr 56.
I'm 49 in 2 weeks.
Time taken according to the official timing chips.
4hrs 55m
HOWEVER, in my defence, I reckon there were about 10 mins lost at the feed station, 5-10 mins to change a tube and about 20 mins whilst 2 of us helped a South African bloke on a 29er who had run out of spare tubes (he had 6!!!) We tried 3 before one stayed up and it's amazing that a 23mm road tube can inflate a dirty girt big 29er tyre.
Time according to the bike computer.
4hrs 1 min, 49 miles, average 11.6
I'm not even knackered, tired yes, but will give it a few weeks before attempting anything like that again. Nothing aches.....................................yet