Bought this little beauty a couple of months ago...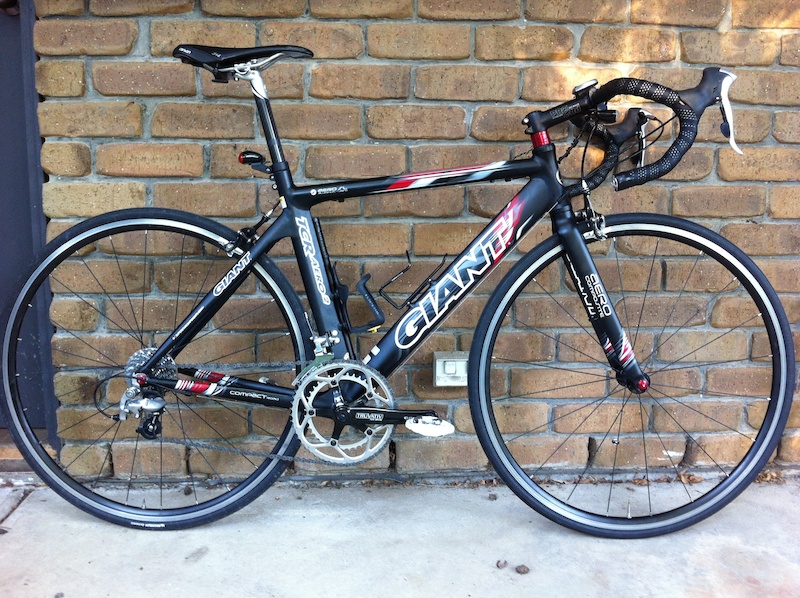 im not too sure of the year... as online the Giant archives stop before i can find a pic of this...
but specs are as follows....
50cm frame
53 & 39 tooth rings up front
25 - 12 in the back
Carbon fork (Giant branded, not too fussed about finding out the mfr)
1 1/8 threadless steerer.
Shimano WH-R500 wheels front and back
175mm Truvativ ELITA cranks
Pro XLT stem
boggo Giant bars
(The two of above to be swapped with a Deda Zero 1 stem and new bars TBA)
Tiagra groupset 9speed (flight deck model)
Superstar Carbon TI QR's
Superstar Headset spacers
Shimano PD-M530 on the bike at the mo....
Shimano PD-R540 to be fitted once i get shoes and cleats.
mint condition....bar a couple of chips from the pump on the frame and no cable rub as far as i can see....
had to replace the braze on as it cracked when i was indexing the gears, but otherwise a joy to ride.... superlight compared to my 29er hardrock so i can at least mix it with the other roadies from the lax team this season
going to give it a respray in the winter here.... matt black as it is now... but i work with an ex signwriter/pinstriper so will see if he will do me something special on the frame to set it apart from the norm!
text and striping will be in red and white to match what it used to be.
P.S. what do you think of the wrap job on the bars? first shot at it...... will do better with the new bars once ordered and delivered.