Finally took delivery of my YT Tues last Friday, albeit a couple of weeks earlier than expected which was nice. Wasn't due to be ready until week 40, then should have been 10 to 12 working days delivery. Actually received it in week 40 ! All in all, 5 wks from date of order to delivery and they were not in stock at the time.
Got a phone call off them the week earlier to double check delivery details etc which I thought was good.
He also offered me one which had a tiny scratch (emailed me the photo) saying that if I had it, they'd chuck me a spare mech hanger in. I said give me the mech hanger and some pedals and you got a deal, nice set of wellgo V12's to go straight on ebay cheers
Assembly was straightforward enough, wheels, stem and bars, oh and swap the brake levers over, but seeing as the Avid's can fit either side, no hose swapping or anything needed.
Took it for it's first ride to Stile Cop on Sat, it's a cracking bike for the money. Done quite a bit of DH on my Enduro (160mm) but this thing is just a complete different animal. It just eats drops and is so stable.
I had been thinking whether I should have gone for the 2.0 mainly due to it supposedly being 2kg lighter. Glad I saved the £500 now as it certainly doesn't feel heavy, no more so than the other DH bikes I've swung a leg over.
Very pleased with the sizing (it's a large), i'm 6' 1" and love my large enduro for sizing / ride. This felt just like the enduro, but a whole lot bouncier
Only change is the pedals, have fitted some exotic flats as I love them (and nano's obv). Have a set of Butchers to go on it when the nevegals wear out, but they will stay for now as they feel fine.
Looking forward to getting it to Antur Stiniog now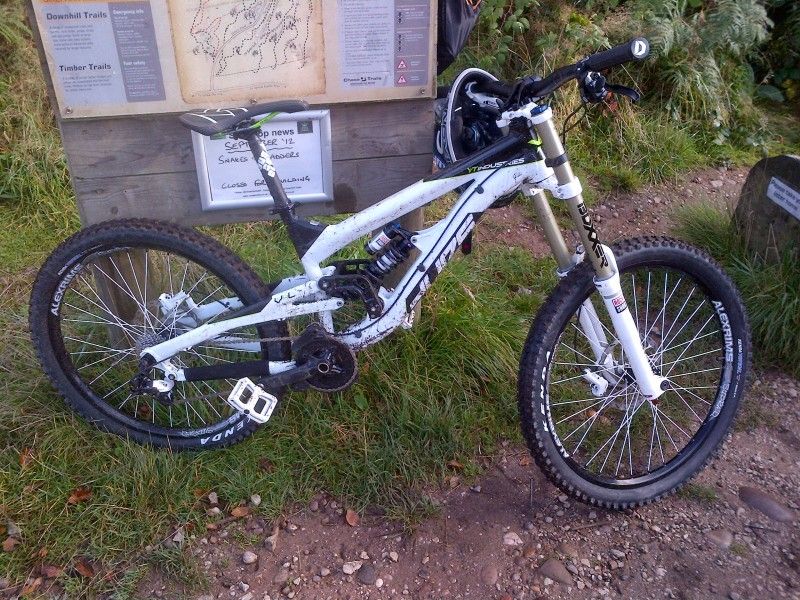 Spec off website
Frame7005-T6 Alu, Virtuell 4Link Hinterbau
Shock Rock Shox Kage RC
Fork Rock Shox Boxxer RC
Travel f/r 200mm / 200mm
Headset YT Taper
Rear Derailleur Sram X9 10-speed
Shift Lever Sram X7
Chainguide E13 LS1+
Brakes Avid Elixir 3
Discs f/r 200mm/200mm
Cranks Truvativ Descendant
Cassette Sram PG-1050, 11-26 dents
Bottom Bracket Truvativ GXP
Front Hub Division FHB light - thru axle 20 mm
Rear Hub Division RHS light - thru axle 12 mm
Rims Alexrims Supra D
Front Tire Kenda Nevegal 26x2.50 E-Stick
Rear Tire Kenda Nevegal 26x2.50 E-Stick
Stem Division Direct Mount
Handlebar Truvativ Boobar 780mm
Seatpost Truvativ Hussefelt
Saddle YT
Pedals none (however free pair of Wellgo V'12's)
Not bad for £1609 delivered.